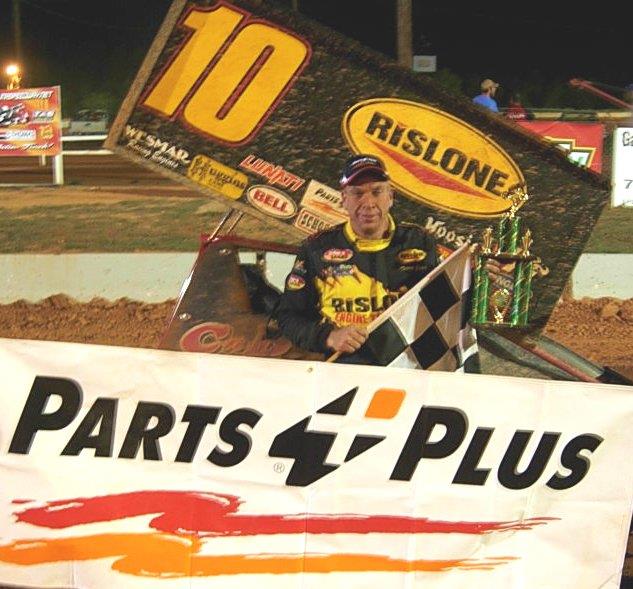 ---
Gray completes Parts Plus USCS Thunder in Carolina weekend double at Harris Speedway
Harris, NC - April 25, 2009 – Defending Parts Plus United Sprint Car Series National Champion completed a sweep of the Parts Plus USCS Thunder in Carolina double-header weekend with a win in the series main event on Saturday night at Harris Speedway in front of a near capacity crowd. It was Gray's second feature win in as many nights after winning on Friday night at Carolina Speedway. Gray drove his sprint car to victory to collect his second win of the 2009 season as well over a field of twenty entries from eight states. The veteran from Bartlett, Tennessee drove his Rislone Oil Stabilizer sponsored Wesmar powered J&J Auto Racing black #10 past early race-leader, Tyler Godwin from Tampa, Florida on lap seven for the lead, then charged to victory lane in the 30-lap feature race. Godwin followed Gray across the finish line to garner his second runner-up spot in two nights.
Gray started fourth in the field after Engler Machine and Tool First Heat winner, Brian Smith from Mooresville, North Carolina drew a six inversion in the K&N Filters Pole Award drawing to place his Capflags sponsored #11s outside row three. The inversion placed veteran Kramer Williamson from Palmyra, Pennsylvania on the K&N Filters Pole Position and Tyler Godwin in the front row with him. Mooresville, North Carolina sprint car rookie C.J. Miller and Terry Gray were positioned in row two. Eighteen year-old Nick Bashford who won the evening's Butlerbuilt Second Heat Race started his #24X Roush-Yates ford powered mount inside of Smith in fifth position.
On the start Godwin won the drag race to turn one and lead lap one with Williamson, Gray, Bashford and Smith chasing him in that order. On lap four Gray got past Williamson for the second position and 2008 Harris Speedway USCS feature winner, Johnny Bridges replaced Smith in the top five. By lap six, Gray had reeled in Godwin and on lap seven raced underneath him for the lead. On lap nine Smith spun exiting turn four and brought out the caution bunching the field behind Gray. On the next lap Nick Bash ford rollover hard entering turn three bringing out the red flag. This ended his night.
After the field re-started with ten laps complete and twenty go, Gray was leading the order with young gun Godwin in second position, followed by Williamson in third place, the current USCS rookie points leader, Justin Carver from Drummonds, Tennessee was in fourth place, then C.J. Miller and now Josh Weller from Mertztown, Pennsylvania occupying fifth and sixth positions. The next eleven laps went caution-free before the red was displayed again for two cars flipping into turn three. Dain Naida from Belleville, Michigan collided with Rory Janney from Estill Manor, New Jersey with Naida rolling over and Janney taking several hard flips and damaging his car severely. Janney retired for the balance of the event. Naida fired his #6n and re-joined the field. On the re-start Brian Smith spun exiting turn four to bring out the evening's fourth and final caution.
During the final nine laps Gray left no doubt who was going to lead. Godwin held off Williamson while Carver chased the duo and Weller looked for a rookie mistake from the talented Carver that would never come. Gray raced past the checkered flag first followed by Godwin in the runner-up spot. Williamson collected his second third place finish of the weekend. Carver, who trials Gray in the National point standings by less than thirty points, followed in fourth place. Josh Weller who started eleventh rounded out the top five finishers.
The next group was headed by rookie C.J. Miller in sixth place. Johnny Bridges who went to the rear of the field on lap ten after changing a flat right rear tire, finished in seventh place. Bryn Gohn from Malabar, Florida finished in eighth place. Anthony Nicholson from Bartlett, Tennessee who ranks third in the current Parts Plus USCS National point standings finished in the ninth position. Matt Linder from Hoschton, Georgia rounded out the top ten after starting eighteenth.
Terry Gray won the evening's six-lap Parts Plus Power Dash. Brian Smith won the 10-lap Engler Machine and Tool First Heat Race. Young gun Nick Bashford rolled to victory in the Butlerbuilt Second Heat Race. The Bar's Leaks Third Heat Race was won by the eventual feature winner Terry Gray. Matt Linder garnered the Lunati "Crank It Up" Award for his charge past eight cars in the main event. Rookie sensation, Justin Carver garnered The RE Technologies Rookie of Race honors with a fourth place finish. The JE Pistons Top Guns Award that rotates from first through fifth place went to Carver as well for his fourth place finish.
---
Back to News