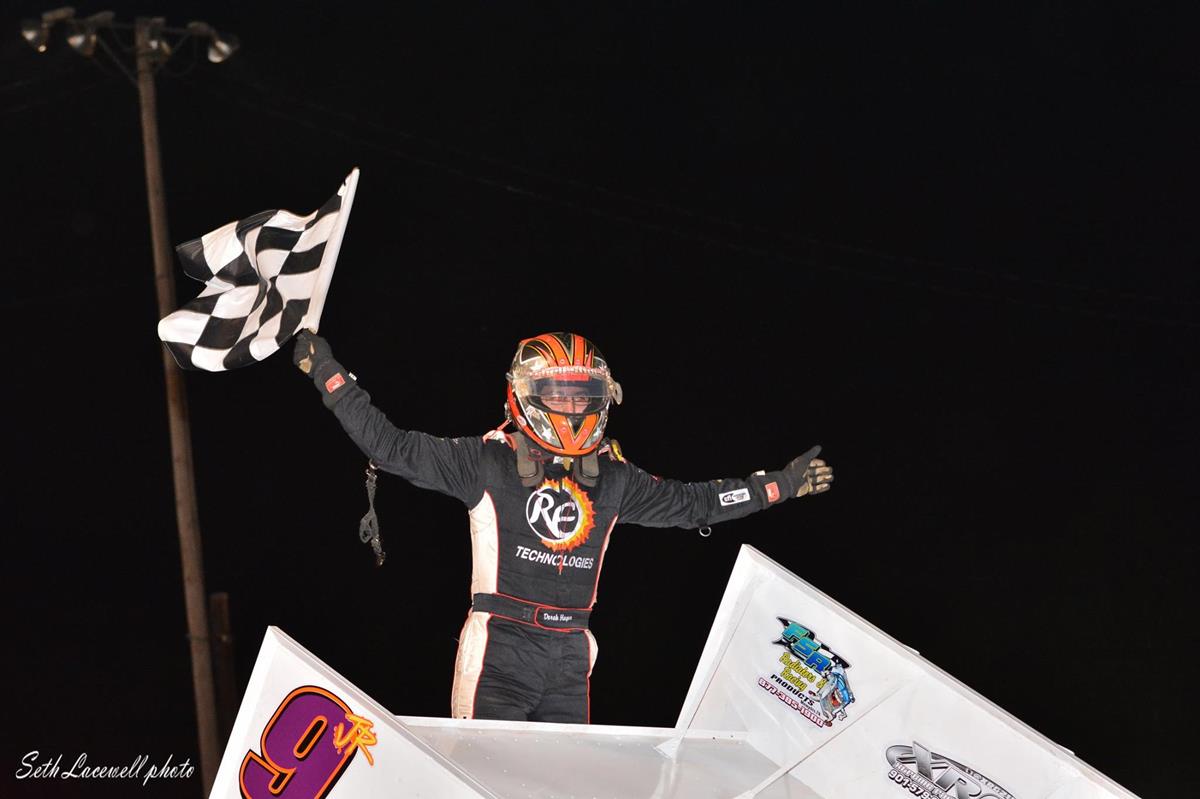 8/26/2014
Inside Line Promotions
---
Hagar Powers to 13th Victory of the Season With USCS at Dixie Speedway
(Photo by Seth Lacewell)
Inside Line Promotions – WOODSTOCK, Ga. (Aug. 26, 2014) – Derek Hagar charged to his 13th feature victory of the season last Saturday at Dixie Speedway.
Hagar kicked off the night by winning his USCS heat race after starting third, which gave him the most points of any driver and the pole position for the main event once the zero was drawn for the inversion.
"On the first lap I overdrove the car going into turn one and Anthony Nicholson drove past me," he said. "We drag raced pretty hard down the front straightaway. I slid off the bottom and he drove under me. He led the first 19 laps. It was one lane, slick around the bottom. I had to wait for him to make a mistake and he pushed up coming off the corner of turn two and I was able to get my nose under him."
Hagar took the lead with six laps remaining en route to his eighth USCS victory of the year.
The win wrapped up a tripleheader weekend when Hagar improved each night.
It started last Thursday at Riverside International Speedway in West Memphis, Ark., for the Midsouth Showdown. Hagar maneuvered from seventh to fourth place during his Lucas Oil ASCS National Tour heat race, which earned him a spot in the feature redraw.
"Thursday night it was all about the luck of the draw," he said. "The race track was too good. I ended up drawing a seven and ran around that spot for probably 15 laps into the main event. The track started coming in more and more. My car started getting really tight. A lot of people were biking up and crashing. I just thought better of it. I didn't see any reason to tear my equipment up."
Hagar pulled into the pits near the midpoint of the race and he was credited with an 18th-place finish.
He returned to ASCS National Tour action the following night at Lexington 104 Speedway in Lexington, Tenn., where Hagar won a heat race from the pole to once again advance into the feature redraw.
"I let my mom draw and she drew me a six, so that put us starting sixth in the feature," he said. "We ran there for fifth or sixth probably 10 laps and then they had a caution. The car got better and better as the race went on. I had been on the top the whole race and with about five laps to go I found the bottom. I drove by Sam Hafertepe Jr. and closed on the leaders."
Hagar's late charge toward the front yielded a third-place result.
"It was one of those deals I wish I had found the bottom about 10 laps earlier," he said. "A third-place finish with the ASCS National Tour isn't too shabby though."
Hagar will return to USCS action this weekend when he drives for Jay Hancock during a tripleheader. The team will compete on Saturday at Harris Speedway in Harris, N.C., on Sunday at Toccoa Speedway in Toccoa, Ga., and on Monday at Tri-County Race Track in Brasstown, N.C.
QUICK RESULTS –
Aug. 21 – Riverside International Speedway in West Memphis, Ark. – Heat race: 4 (7); Feature: 18 (7).
Aug. 22 – Lexington 104 Speedway in Lexington, Tenn. – Heat race: 1 (1); Feature: 3 (6).
Aug. 23 – Dixie Speedway in Woodstock, Ga. – Heat race: 1 (3); Feature: 1 (1).
SEASON STATS –
31 races, 13 wins, 17 top fives, 21 top 10s, 23 top 15s, 27 top 20s
UP NEXT –
Saturday at Harris Speedway in Harris, N.C., Sunday at Toccoa Speedway in Toccoa, Ga., and Monday at Tri-County Race Track in Brasstown, N.C., with the USCS Series
MEDIA LINKS –
Website: http://www.DerekHagarRacing.com
Twitter: https://twitter.com/HagarDerek
VIDEO –
Ride along with Hagar during his victory at I-30 Speedway on April 5 thanks to this video by Jones Sports Media: http://youtu.be/JDYTr1M4KjM
APPAREL –
Hagar has t-shirts, hats and koozies available for sale at his race trailer at every race he competes at. To see his schedule, visit http://www.DerekHagar.com/schedule.
SPONSOR SPOTLIGHT – R.E. Enterprises
Based in Memphis, Tenn., R.E. Enterprises is a one-stop solution for sprint car parts and racing supplies, racing and performance shock services, chassis repairs and fabrication, and custom welding or machining needs. For more information, visit http://www.RacingEclipse.com.
"R.E. Enterprises has pretty much everything a team needs," Hagar said. "Not only do they help me out, but I work there doing shocks. That has been a huge advantage to me. I encourage everyone to check out R.E. Enterprises and the website."
Hagar would also like to thank J&J Auto Racing, Dynotech Performance, Xtreme Race Graphics, FSR Radiators, Fragola Performance Systems, ButlerBuilt Professional Seat Systems, Hinchman Racewear, FK Rod Ends and Ti64 for their continued support.
INSIDE LINE PROMOTIONS –
Inside Line Promotions specializes in affordable public relations and media management for motor sports drivers, teams, sponsors, tracks, series, events, organizations and manufacturers. ILP Founder Shawn Miller leverages professional journalism with new media technologies and social networking to improve your exposure and the return on investment for your sponsors.
To meet the media relations needs of your program and to join Team ILP, contact Shawn at 541-510-3663 or InsideLinePromotions@gmail.com. For more information on Inside Line Promotions, visit http://www.InsideLinePromotions.com.
---
Article Credit: Inside Line Promotions
Submitted By: Shawn Miller
Back to News