Where family, friends, & fenders come together!
Entertaining the Carolinas with weekly stock car racing since 1955!

Weekly Divisions
Street Stock, Thunder Bomber, Pure Stock, FWD, Ford Outlaws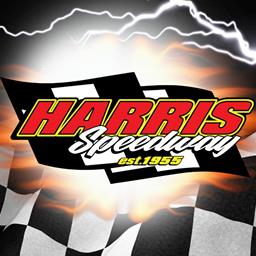 9/15/2023 - Harris Speedway
Harris, NC
Chuck Sparks & Randy Hill Memorial ft. SEHA
FWD SEHA will practice, qualify, heats
Everyone else is running a full show!
Futures

17 entries

Pure Stock

13 entries

FWD

26 entries

V-8 Young Guns

7 entries

Ford Outlaws

13 entries

Young Guns

7 entries

Renegade Sportsman

20 entries
Full Event Information on MyRacePass
Futures
Finish
Start
#
Competitor
Hometown
+/-
1
6
135JR
Trenten Jamieson Laurens, SC
Laurens, SC
5
2
4
55
Nathan Grigg Spartanburg, SC
Spartanburg, SC
2
3
3
35
Brandon Bagwell Gray Court, SC
Gray Court, SC
-
4
13
75
Josh Mathis Zirconia, NC
Zirconia, NC
9
5
5
E1
Clarence Baldwin Hendersonville, NC
Hendersonville, NC
-
6
10
212
Drew Banks Mount Holly, NC
Mount Holly, NC
4
7
12
68
Matthew Tucker Landrum, SC
Landrum, SC
5
8
9
119
Jason Edmonds Taylors, SC
Taylors, SC
1
9
8
53
Michael Thompson Piedmont, SC
Piedmont, SC
-1
10
17
57
Chris Meinders Liberty, SC
Liberty, SC
7
11
2
19R
Rodger Mason Landrum, SC
Landrum, SC
-9
12
1
34P
Joey Powell Greer, SC
Greer, SC
-11
13
14
4
Cory Skipper Mill Spring, NC
Mill Spring, NC
1
14
16
113
Dillon Smith Woodruff, SC
Woodruff, SC
2
15
7
07
Micheal Hooper Spindale, NC
Spindale, NC
-8
16
15
37X
Josh Husley Hudson, NC
Hudson, NC
-1
DNS
11
17
Drake Baldwin Hendersonville, NC
Hendersonville, NC
-
Finish
Start
#
Competitor
Hometown
+/-
1
2
34P
Joey Powell Greer, SC
Greer, SC
1
2
4
35
Brandon Bagwell Gray Court, SC
Gray Court, SC
2
3
1
E1
Clarence Baldwin Hendersonville, NC
Hendersonville, NC
-2
4
6
07
Micheal Hooper Spindale, NC
Spindale, NC
2
5
7
119
Jason Edmonds Taylors, SC
Taylors, SC
2
6
3
17
Drake Baldwin Hendersonville, NC
Hendersonville, NC
-3
7
5
75
Josh Mathis Zirconia, NC
Zirconia, NC
-2
8
8
37X
Josh Husley Hudson, NC
Hudson, NC
-
All transfer
Finish
Start
#
Competitor
Hometown
+/-
1
2
19R
Rodger Mason Landrum, SC
Landrum, SC
1
2
4
55
Nathan Grigg Spartanburg, SC
Spartanburg, SC
2
3
3
135JR
Trenten Jamieson Laurens, SC
Laurens, SC
-
4
5
53
Michael Thompson Piedmont, SC
Piedmont, SC
1
5
6
212
Drew Banks Mount Holly, NC
Mount Holly, NC
1
6
1
68
Matthew Tucker Landrum, SC
Landrum, SC
-5
7
8
4
Cory Skipper Mill Spring, NC
Mill Spring, NC
1
8
7
113
Dillon Smith Woodruff, SC
Woodruff, SC
-1
All transfer
Finish
Start
#
Competitor
Hometown
Time
1
6
135JR
Trenten Jamieson Laurens, SC
Laurens, SC
22.049
2
4
19R
Rodger Mason Landrum, SC
Landrum, SC
23.190
3
10
53
Michael Thompson Piedmont, SC
Piedmont, SC
23.408
4
2
68
Matthew Tucker Landrum, SC
Landrum, SC
23.690
5
12
212
Drew Banks Mount Holly, NC
Mount Holly, NC
23.691
6
1
E1
Clarence Baldwin Hendersonville, NC
Hendersonville, NC
23.925
7
9
75
Josh Mathis Zirconia, NC
Zirconia, NC
23.949
8
13
119
Jason Edmonds Taylors, SC
Taylors, SC
24.065
9
8
55
Nathan Grigg Spartanburg, SC
Spartanburg, SC
24.070
10
5
17
Drake Baldwin Hendersonville, NC
Hendersonville, NC
24.160
11
11
07
Micheal Hooper Spindale, NC
Spindale, NC
24.437
12
7
35
Brandon Bagwell Gray Court, SC
Gray Court, SC
25.569
13
3
34P
Joey Powell Greer, SC
Greer, SC
48.444
DNS
14
113
Dillon Smith Woodruff, SC
Woodruff, SC
DNS
15
37X
Josh Husley Hudson, NC
Hudson, NC
DNS
16
4
Cory Skipper Mill Spring, NC
Mill Spring, NC
Pure Stock
Finish
Start
#
Competitor
Hometown
+/-
1
1
64
TJ Penfield Landrum, SC
Landrum, SC
-
2
6
44J
Bradley Williams Easley, SC
Easley, SC
4
3
13
ST7
Nathan Pierce Gaffney, SC
Gaffney, SC
10
4
4
4B
Brandon Byers Chesnee, SC
Chesnee, SC
-
5
11
PTM8
Dave Johnson
6
6
12
188
Austin Hatton Canton, NC
Canton, NC
6
7
9
T20
Terry Seay Duncan, SC
Duncan, SC
2
8
8
9
Matt Spencer Harris, NC
Harris, NC
-
9
3
0
Kevin Nations Greenville, SC
Greenville, SC
-6
10
5
10
Tyler Riddle Easley, SC
Easley, SC
-5
11
2
10J
Taylor Johnson
-9
DNS
7
11
Ray Hudson Forest City, NC
Forest City, NC
-
DNS
10
52P
David Peterson Gaffney, SC
Gaffney, SC
-
Finish
Start
#
Competitor
Hometown
+/-
1
1
64
TJ Penfield Landrum, SC
Landrum, SC
-
2
4
0
Kevin Nations Greenville, SC
Greenville, SC
2
3
5
10
Tyler Riddle Easley, SC
Easley, SC
2
4
3
11
Ray Hudson Forest City, NC
Forest City, NC
-1
5
2
T20
Terry Seay Duncan, SC
Duncan, SC
-3
6
6
PTM8
Dave Johnson
-
7
7
ST7
Nathan Pierce Gaffney, SC
Gaffney, SC
-
All transfer
Finish
Start
#
Competitor
Hometown
+/-
1
1
10J
Taylor Johnson
-
2
3
4B
Brandon Byers Chesnee, SC
Chesnee, SC
1
3
6
44J
Bradley Williams Easley, SC
Easley, SC
3
4
2
9
Matt Spencer Harris, NC
Harris, NC
-2
5
4
52P
David Peterson Gaffney, SC
Gaffney, SC
-1
DNS
5
188
Austin Hatton Canton, NC
Canton, NC
-
All transfer
Finish
Start
#
Competitor
Hometown
Time
1
6
4B
Brandon Byers Chesnee, SC
Chesnee, SC
21.277
2
2
10J
Taylor Johnson
21.304
3
13
ST7
Nathan Pierce Gaffney, SC
Gaffney, SC
21.544
4
12
44J
Bradley Williams Easley, SC
Easley, SC
21.593
5
4
9
Matt Spencer Harris, NC
Harris, NC
21.753
6
9
10
Tyler Riddle Easley, SC
Easley, SC
21.753
7
7
0
Kevin Nations Greenville, SC
Greenville, SC
22.048
8
11
PTM8
Dave Johnson
22.684
9
5
11
Ray Hudson Forest City, NC
Forest City, NC
22.949
DNS
1
64
TJ Penfield Landrum, SC
Landrum, SC
DNS
3
T20
Terry Seay Duncan, SC
Duncan, SC
DNS
8
52P
David Peterson Gaffney, SC
Gaffney, SC
DNS
10
188
Austin Hatton Canton, NC
Canton, NC
FWD
Finish
Start
#
Competitor
Hometown
+/-
1
2
14
Wayne Taylor Laurens, SC
Laurens, SC
1
2
1
48
Kayden Presnell Pickens, SC
Pickens, SC
-1
3
3
3C
Scott Cloninger Blacksburg, SC
Blacksburg, SC
-
4
4
2C
Tyler Capps Travelers Rest, SC
Travelers Rest, SC
-
5
5
B11
Brody Garrett Laurens, SC
Laurens, SC
-
6
6
J6
Jimmy Price Chesnee, SC
Chesnee, SC
-
Finish
Start
#
Competitor
Hometown
+/-
1
1
11
Casey Towell Gaffney, SC
Gaffney, SC
-
2
2
1
Justin Harris Gray Court, SC
Gray Court, SC
-
3
3
243
Seth Smith Gray Court, SC
Gray Court, SC
-
4
4
BAND1T
Dale Bennett Taylors, SC
Taylors, SC
-
5
6
87X
Josh Cody Travelers Rest, SC
Travelers Rest, SC
1
6
5
A00
Andrew Rich Shelby, NC
Shelby, NC
-1
Finish
Start
#
Competitor
Hometown
+/-
1
2
22
Trent Blackwell Central, SC
Central, SC
1
2
3
M34
Chris Meadows Gaffney, SC
Gaffney, SC
1
3
4
3
Keylon Tate Bostic, NC
Bostic, NC
1
4
1
00
Jonathan Sarratt Shelby, NC
Shelby, NC
-3
5
5
F1
Travis Lankford Gaffney, SC
Gaffney, SC
-
6
6
X
Chris Meinders Liberty, SC
Liberty, SC
-
Finish
Start
#
Competitor
Hometown
+/-
1
1
A1
Hunter Anthony Liberty, SC
Liberty, SC
-
2
2
56
Ricky Hill Norris, SC
Norris, SC
-
3
7
78
Willie Fowler Rutherfordton, NC
Rutherfordton, NC
4
4
4
1B
Bibi Rojo Travelers Rest, SC
Travelers Rest, SC
-
5
5
2
Seth Layton ROEBUCK, SC
ROEBUCK, SC
-
Finish
Start
#
Competitor
Hometown
Time
1
8
11
Casey Towell Gaffney, SC
Gaffney, SC
18.872
2
3
00
Jonathan Sarratt Shelby, NC
Shelby, NC
18.877
3
2
A1
Hunter Anthony Liberty, SC
Liberty, SC
18.981
4
22
14
Wayne Taylor Laurens, SC
Laurens, SC
19.021
5
25
1
Justin Harris Gray Court, SC
Gray Court, SC
19.044
6
10
56
Ricky Hill Norris, SC
Norris, SC
19.105
7
5
3C
Scott Cloninger Blacksburg, SC
Blacksburg, SC
19.119
8
14
243
Seth Smith Gray Court, SC
Gray Court, SC
19.235
9
7
M34
Chris Meadows Gaffney, SC
Gaffney, SC
19.242
10
24
8B
Jonathan Butler Ellenboro, NC
Ellenboro, NC
19.297
11
21
BAND1T
Dale Bennett Taylors, SC
Taylors, SC
19.349
12
11
3
Keylon Tate Bostic, NC
Bostic, NC
19.404
13
15
1B
Bibi Rojo Travelers Rest, SC
Travelers Rest, SC
19.486
14
12
B11
Brody Garrett Laurens, SC
Laurens, SC
19.488
15
13
A00
Andrew Rich Shelby, NC
Shelby, NC
19.504
16
16
F1
Travis Lankford Gaffney, SC
Gaffney, SC
19.528
17
9
2
Seth Layton ROEBUCK, SC
ROEBUCK, SC
19.670
18
4
J6
Jimmy Price Chesnee, SC
Chesnee, SC
20.051
19
20
87X
Josh Cody Travelers Rest, SC
Travelers Rest, SC
20.381
20
6
X
Chris Meinders Liberty, SC
Liberty, SC
20.671
21
17
48
Kayden Presnell Pickens, SC
Pickens, SC
20.848
22
19
22
Trent Blackwell Central, SC
Central, SC
20.848
23
18
2C
Tyler Capps Travelers Rest, SC
Travelers Rest, SC
20.848
24
1
27
Chris Jaret Taylors, SC
Taylors, SC
20.848
DNS
23
78
Willie Fowler Rutherfordton, NC
Rutherfordton, NC
Finish
Start
#
Competitor
Hometown
Time
1
3
00
Jonathan Sarratt Shelby, NC
Shelby, NC
19.227
2
8
11
Casey Towell Gaffney, SC
Gaffney, SC
19.260
3
5
3C
Scott Cloninger Blacksburg, SC
Blacksburg, SC
19.264
4
2
A1
Hunter Anthony Liberty, SC
Liberty, SC
19.294
5
22
14
Wayne Taylor Laurens, SC
Laurens, SC
19.328
6
17
48
Kayden Presnell Pickens, SC
Pickens, SC
19.371
7
19
22
Trent Blackwell Central, SC
Central, SC
19.492
8
7
M34
Chris Meadows Gaffney, SC
Gaffney, SC
19.553
9
10
56
Ricky Hill Norris, SC
Norris, SC
19.725
10
14
243
Seth Smith Gray Court, SC
Gray Court, SC
19.754
11
20
87X
Josh Cody Travelers Rest, SC
Travelers Rest, SC
19.893
12
15
1B
Bibi Rojo Travelers Rest, SC
Travelers Rest, SC
19.925
13
13
A00
Andrew Rich Shelby, NC
Shelby, NC
20.029
14
16
F1
Travis Lankford Gaffney, SC
Gaffney, SC
20.115
15
21
BAND1T
Dale Bennett Taylors, SC
Taylors, SC
20.177
16
9
2
Seth Layton ROEBUCK, SC
ROEBUCK, SC
20.187
17
12
B11
Brody Garrett Laurens, SC
Laurens, SC
20.256
18
4
J6
Jimmy Price Chesnee, SC
Chesnee, SC
20.259
19
18
2C
Tyler Capps Travelers Rest, SC
Travelers Rest, SC
20.390
20
1
27
Chris Jaret Taylors, SC
Taylors, SC
21.943
21
23
78
Willie Fowler Rutherfordton, NC
Rutherfordton, NC
23.547
DNS
6
X
Chris Meinders Liberty, SC
Liberty, SC
DNS
11
3
Keylon Tate Bostic, NC
Bostic, NC
DNS
24
8B
Jonathan Butler Ellenboro, NC
Ellenboro, NC
DNS
25
1
Justin Harris Gray Court, SC
Gray Court, SC
V-8 Young Guns
Finish
Start
#
Competitor
Hometown
+/-
1
1
33
Ronnie Penson Bostic, NC
Bostic, NC
-
2
3
05
Cruz Mattison Woodruff, SC
Woodruff, SC
1
3
6
54
Ashley Massey Gaffney, SC
Gaffney, SC
3
4
4
25
Ayden Massey Monroe, NC
Monroe, NC
-
5
5
34
Natalie Powell Greer, SC
Greer, SC
-
6
2
45
Devin Atkins Travelers Rest, SC
Travelers Rest, SC
-4
7
7
72
Miley Jones Mayo, SC
Mayo, SC
-
Finish
Start
#
Competitor
Hometown
+/-
1
1
33
Ronnie Penson Bostic, NC
Bostic, NC
-
2
5
45
Devin Atkins Travelers Rest, SC
Travelers Rest, SC
3
3
4
05
Cruz Mattison Woodruff, SC
Woodruff, SC
1
4
2
25
Ayden Massey Monroe, NC
Monroe, NC
-2
5
7
34
Natalie Powell Greer, SC
Greer, SC
2
6
3
54
Ashley Massey Gaffney, SC
Gaffney, SC
-3
DNS
6
72
Miley Jones Mayo, SC
Mayo, SC
-
All transfer
Finish
Start
#
Competitor
Hometown
Time
1
4
05
Cruz Mattison Woodruff, SC
Woodruff, SC
20.826
2
2
25
Ayden Massey Monroe, NC
Monroe, NC
21.522
3
1
33
Ronnie Penson Bostic, NC
Bostic, NC
21.998
4
5
45
Devin Atkins Travelers Rest, SC
Travelers Rest, SC
22.045
5
3
54
Ashley Massey Gaffney, SC
Gaffney, SC
22.432
6
7
34
Natalie Powell Greer, SC
Greer, SC
25.253
DNS
6
72
Miley Jones Mayo, SC
Mayo, SC
Ford Outlaws
Finish
Start
#
Competitor
Hometown
+/-
1
1
44
Bobby Whitworth Greenville, SC
Greenville, SC
-
2
2
00
Jonathan Sarratt Shelby, NC
Shelby, NC
-
3
6
28
Tyler Bailey Rutherfordton, NC
Rutherfordton, NC
3
4
10
714
Casey Towell Gaffney, SC
Gaffney, SC
6
5
4
22
Blake Greene Shelby, NC
Shelby, NC
-1
6
13
23
Kendell Meinders Liberty, SC
Liberty, SC
7
7
12
17
Josh Melton Mooresboro, NC
Mooresboro, NC
5
8
11
27
Savannah Meinders Liberty, SC
Liberty, SC
3
9
9
OUT13
Dylan Robinson Boiling Springs, SC
Boiling Springs, SC
-
10
7
11
Kyle Moore Boiling Springs, NC
Boiling Springs, NC
-3
11
5
07
Payton Justice Inman, SC
Inman, SC
-6
12
3
10
Isaiah Watts Kings Mountain, NC
Kings Mountain, NC
-9
DNS
8
DT
Barry Bryant Shelby, NC
Shelby, NC
-
Finish
Start
#
Competitor
Hometown
+/-
1
2
44
Bobby Whitworth Greenville, SC
Greenville, SC
1
2
3
10
Isaiah Watts Kings Mountain, NC
Kings Mountain, NC
1
3
5
07
Payton Justice Inman, SC
Inman, SC
2
4
4
11
Kyle Moore Boiling Springs, NC
Boiling Springs, NC
-
5
1
OUT13
Dylan Robinson Boiling Springs, SC
Boiling Springs, SC
-4
6
27
Savannah Meinders Liberty, SC
Liberty, SC
-
DNS
6
17
Josh Melton Mooresboro, NC
Mooresboro, NC
-
DNS
7
23
Kendell Meinders Liberty, SC
Liberty, SC
-
All transfer
Finish
Start
#
Competitor
Hometown
+/-
1
2
00
Jonathan Sarratt Shelby, NC
Shelby, NC
1
2
1
22
Blake Greene Shelby, NC
Shelby, NC
-1
3
3
28
Tyler Bailey Rutherfordton, NC
Rutherfordton, NC
-
4
4
DT
Barry Bryant Shelby, NC
Shelby, NC
-
5
5
714
Casey Towell Gaffney, SC
Gaffney, SC
-
All transfer
Finish
Start
#
Competitor
Hometown
Time
1
8
DT
Barry Bryant Shelby, NC
Shelby, NC
20.833
2
4
00
Jonathan Sarratt Shelby, NC
Shelby, NC
21.356
3
2
22
Blake Greene Shelby, NC
Shelby, NC
21.483
4
7
11
Kyle Moore Boiling Springs, NC
Boiling Springs, NC
21.487
5
6
28
Tyler Bailey Rutherfordton, NC
Rutherfordton, NC
21.788
6
5
10
Isaiah Watts Kings Mountain, NC
Kings Mountain, NC
21.827
7
3
44
Bobby Whitworth Greenville, SC
Greenville, SC
21.946
8
9
07
Payton Justice Inman, SC
Inman, SC
21.969
9
10
714
Casey Towell Gaffney, SC
Gaffney, SC
22.189
10
1
OUT13
Dylan Robinson Boiling Springs, SC
Boiling Springs, SC
28.973
DNS
11
17
Josh Melton Mooresboro, NC
Mooresboro, NC
Young Guns
Finish
Start
#
Competitor
Hometown
+/-
1
1
44
Randy Clark Jr Fountain Inn, SC
Fountain Inn, SC
-
2
4
07
Brayden McDonald DONALDS, SC
DONALDS, SC
2
3
6
78
Ethan Fowler Harris, NC
Harris, NC
3
4
3
25
Blake Pringle Forest City, NC
Forest City, NC
-1
5
2
21
Brandon Greene Ellenborro, NC
Ellenborro, NC
-3
6
7
1
Dylan Vaughn Greenville, SC
Greenville, SC
1
7
5
2
Kylee Laws Travelers Rest, SC
Travelers Rest, SC
-2
Finish
Start
#
Competitor
Hometown
+/-
1
2
44
Randy Clark Jr Fountain Inn, SC
Fountain Inn, SC
1
2
4
21
Brandon Greene Ellenborro, NC
Ellenborro, NC
2
3
7
25
Blake Pringle Forest City, NC
Forest City, NC
4
4
6
07
Brayden McDonald DONALDS, SC
DONALDS, SC
2
DNS
1
2
Kylee Laws Travelers Rest, SC
Travelers Rest, SC
-
DNS
3
78
Ethan Fowler Harris, NC
Harris, NC
-
DNS
5
1
Dylan Vaughn Greenville, SC
Greenville, SC
-
All transfer
Finish
Start
#
Competitor
Hometown
Time
1
6
07
Brayden McDonald DONALDS, SC
DONALDS, SC
20.617
2
2
44
Randy Clark Jr Fountain Inn, SC
Fountain Inn, SC
20.691
3
5
1
Dylan Vaughn Greenville, SC
Greenville, SC
20.868
4
7
25
Blake Pringle Forest City, NC
Forest City, NC
21.826
5
4
21
Brandon Greene Ellenborro, NC
Ellenborro, NC
21.994
6
1
2
Kylee Laws Travelers Rest, SC
Travelers Rest, SC
22.817
DNS
3
78
Ethan Fowler Harris, NC
Harris, NC
Renegade Sportsman
Finish
Start
#
Competitor
Hometown
+/-
1
2
JR1
Jake Jackson Rutherfordton, NC
Rutherfordton, NC
1
2
4
3
Tony Pierce Landrum, SC
Landrum, SC
2
3
1
11
Timmy Smith Greer, SC
Greer, SC
-2
4
8
BB2
Jesse Wall Chesnee, SC
Chesnee, SC
4
5
5
B4
Brandon Satterfield Spartanburg, SC
Spartanburg, SC
-
6
12
86R
John James Elkin, NC
Elkin, NC
6
7
14
115
Danny Edmonds Taylors, SC
Taylors, SC
7
8
6
22
Riley Robinette Tigerville, SC
Tigerville, SC
-2
9
9
M7M
Jacob Mathis Zirconia, NC
Zirconia, NC
-
10
16
46
Bailey Hipp Tryon, NC
Tryon, NC
6
11
7
72
Donnie Atkins Blue Ridge, SC
Blue Ridge, SC
-4
12
3
11S
Brian Sipe
-9
13
10
58
Kevin Patterson Shelby, NC
Shelby, NC
-3
14
13
8X
Travis Coggins Zirconia, NC
Zirconia, NC
-1
15
19
45
Jamie Decker Taylors, SC
Taylors, SC
4
Finish
Start
#
Competitor
Hometown
+/-
1
1
11
Timmy Smith Greer, SC
Greer, SC
-
2
4
11S
Brian Sipe
2
3
3
B4
Brandon Satterfield Spartanburg, SC
Spartanburg, SC
-
4
8
72
Donnie Atkins Blue Ridge, SC
Blue Ridge, SC
4
5
2
M7M
Jacob Mathis Zirconia, NC
Zirconia, NC
-3
6
7
16
Lance Miller Flat Rock, NC
Flat Rock, NC
1
7
6
8X
Travis Coggins Zirconia, NC
Zirconia, NC
-1
8
9
3P
Justin Pierce Greenville, SC
Greenville, SC
1
DNS
5
17
Russell Douville , NC
, NC
-
DNS
10
45
Jamie Decker Taylors, SC
Taylors, SC
-
All transfer
Finish
Start
#
Competitor
Hometown
+/-
1
3
JR1
Jake Jackson Rutherfordton, NC
Rutherfordton, NC
2
2
4
3
Tony Pierce Landrum, SC
Landrum, SC
2
3
8
22
Riley Robinette Tigerville, SC
Tigerville, SC
5
4
7
BB2
Jesse Wall Chesnee, SC
Chesnee, SC
3
5
6
58
Kevin Patterson Shelby, NC
Shelby, NC
1
6
5
86R
John James Elkin, NC
Elkin, NC
-1
7
9
115
Danny Edmonds Taylors, SC
Taylors, SC
2
8
10
46
Bailey Hipp Tryon, NC
Tryon, NC
2
DNS
1
13
Austin Kimsey Boston Grove, NC
Boston Grove, NC
-
DNS
2
05
Andy Mattison Woodruff, SC
Woodruff, SC
-
All transfer
Finish
Start
#
Competitor
Hometown
Time
1
14
BB2
Jesse Wall Chesnee, SC
Chesnee, SC
18.297
2
7
11S
Brian Sipe
18.307
3
16
22
Riley Robinette Tigerville, SC
Tigerville, SC
18.352
4
18
115
Danny Edmonds Taylors, SC
Taylors, SC
18.358
5
15
72
Donnie Atkins Blue Ridge, SC
Blue Ridge, SC
18.634
6
10
86R
John James Elkin, NC
Elkin, NC
18.798
7
1
11
Timmy Smith Greer, SC
Greer, SC
18.839
8
5
B4
Brandon Satterfield Spartanburg, SC
Spartanburg, SC
18.880
9
8
3
Tony Pierce Landrum, SC
Landrum, SC
18.965
10
11
8X
Travis Coggins Zirconia, NC
Zirconia, NC
19.167
11
6
JR1
Jake Jackson Rutherfordton, NC
Rutherfordton, NC
19.338
12
3
M7M
Jacob Mathis Zirconia, NC
Zirconia, NC
19.362
13
4
05
Andy Mattison Woodruff, SC
Woodruff, SC
19.371
14
13
16
Lance Miller Flat Rock, NC
Flat Rock, NC
19.573
15
17
3P
Justin Pierce Greenville, SC
Greenville, SC
19.889
16
12
58
Kevin Patterson Shelby, NC
Shelby, NC
20.732
17
19
45
Jamie Decker Taylors, SC
Taylors, SC
21.727
DNS
2
13
Austin Kimsey Boston Grove, NC
Boston Grove, NC
DNS
9
17
Russell Douville , NC
, NC
DNS
20
46
Bailey Hipp Tryon, NC
Tryon, NC