Where family, friends, & fenders come together!
Entertaining the Carolinas with weekly stock car racing since 1955!

Weekly Divisions
602 Late Model, Street Stock, Thunder Bomber, Pure Stock, FWD, Ford Outlaws, Young Guns, Futures

Next Event
Throwback Night on Tuesday September 26th featuring Southern Vintage!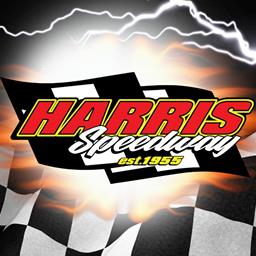 9/26/2023 - Harris Speedway
Harris, NC
Throwback Night!
$15 in the Pits
$5 in the Grandstands
Pure Stock

8 entries

Thunder Bomber

22 entries

FWD

18 entries

Ford Outlaws

16 entries

Young Guns

7 entries

Southern Vintage

9 entries
Full Event Information on MyRacePass
Pure Stock
Finish
Start
#
Competitor
Hometown
+/-
1
1
45
Dustin Morris Inman, SC
Inman, SC
-
2
2
ST7
Nathan Pierce Gaffney, SC
Gaffney, SC
-
3
6
5W
Dewayne Worley Canton, NC
Canton, NC
3
4
3
10J
Taylor Johnson
-1
5
8
5WL
Levi Williams Canton, NC
Canton, NC
3
6
4
PTM8
Dave Johnson
-2
7
5
T20
Terry Seay Duncan, SC
Duncan, SC
-2
DNS
7
52P
David Peterson Gaffney, SC
Gaffney, SC
-
Finish
Start
#
Competitor
Hometown
Time
1
3
45
Dustin Morris Inman, SC
Inman, SC
22.501
2
7
ST7
Nathan Pierce Gaffney, SC
Gaffney, SC
23.098
3
4
10J
Taylor Johnson
23.163
4
8
PTM8
Dave Johnson
23.242
5
6
T20
Terry Seay Duncan, SC
Duncan, SC
23.959
6
2
5W
Dewayne Worley Canton, NC
Canton, NC
24.174
7
5
52P
David Peterson Gaffney, SC
Gaffney, SC
24.311
8
1
5WL
Levi Williams Canton, NC
Canton, NC
25.087
All transfer
Thunder Bomber
Finish
Start
#
Competitor
Hometown
+/-
1
2
48
Grant Parr Boiling Springs, SC
Boiling Springs, SC
1
2
1
45
Donnie Atkins Blue Ridge, SC
Blue Ridge, SC
-1
3
4
99
Coleman Sizemore Taylors, SC
Taylors, SC
1
4
8
10W
Justin Watts Kings Mountain, NC
Kings Mountain, NC
4
5
18
14
Tyler Parker Heath Springs, SC
Heath Springs, SC
13
6
13
38
Freddie Frady Marion, NC
Marion, NC
7
7
5
19R
Rodger Mason Landrum, SC
Landrum, SC
-2
8
21
11
David Wells Landrum, SC
Landrum, SC
13
9
16
40
Todd Bolin Gastonia, NC
Gastonia, NC
7
10
10
98
Jason Johnson Grey Court, SC
Grey Court, SC
-
11
15
B6
Chip Fisher Campobello, SC
Campobello, SC
4
12
11
45A
Devin Atkins Travelers Rest, SC
Travelers Rest, SC
-1
13
12
4
Cory Skipper Mill Spring, NC
Mill Spring, NC
-1
14
14
00
Keith Vane Travelers Rest, SC
Travelers Rest, SC
-
15
19
175
Josh McAbee Greer, SC
Greer, SC
4
16
3
45D
Jamie Decker Taylors, SC
Taylors, SC
-13
17
22
1B
Emily Brown Piedmont, SC
Piedmont, SC
5
18
20
07
Michael Hooper
2
19
6
135
Travis Jamieson Laurens, SC
Laurens, SC
-13
20
17
22
Dustin Smith Inman, SC
Inman, SC
-3
21
7
55
Nathan Grigg Spartanburg, SC
Spartanburg, SC
-14
DNS
9
46
Bailey Hipp Tryon, NC
Tryon, NC
-
Finish
Start
#
Competitor
Hometown
Time
1
8
45
Donnie Atkins Blue Ridge, SC
Blue Ridge, SC
21.486
2
3
48
Grant Parr Boiling Springs, SC
Boiling Springs, SC
21.912
3
7
45D
Jamie Decker Taylors, SC
Taylors, SC
21.985
4
14
99
Coleman Sizemore Taylors, SC
Taylors, SC
22.160
5
16
19R
Rodger Mason Landrum, SC
Landrum, SC
22.498
6
11
135
Travis Jamieson Laurens, SC
Laurens, SC
22.593
7
5
55
Nathan Grigg Spartanburg, SC
Spartanburg, SC
22.601
8
17
10W
Justin Watts Kings Mountain, NC
Kings Mountain, NC
22.705
9
4
46
Bailey Hipp Tryon, NC
Tryon, NC
22.785
10
9
98
Jason Johnson Grey Court, SC
Grey Court, SC
22.874
11
6
45A
Devin Atkins Travelers Rest, SC
Travelers Rest, SC
22.970
12
1
4
Cory Skipper Mill Spring, NC
Mill Spring, NC
23.035
13
20
38
Freddie Frady Marion, NC
Marion, NC
23.116
14
10
00
Keith Vane Travelers Rest, SC
Travelers Rest, SC
23.272
15
19
B6
Chip Fisher Campobello, SC
Campobello, SC
23.426
16
21
40
Todd Bolin Gastonia, NC
Gastonia, NC
23.498
17
12
22
Dustin Smith Inman, SC
Inman, SC
23.539
18
2
14
Tyler Parker Heath Springs, SC
Heath Springs, SC
24.937
19
13
175
Josh McAbee Greer, SC
Greer, SC
25.216
20
15
07
Michael Hooper
25.376
21
22
11
David Wells Landrum, SC
Landrum, SC
25.501
22
18
1B
Emily Brown Piedmont, SC
Piedmont, SC
25.775
All transfer
FWD
Finish
Start
#
Competitor
Hometown
+/-
1
1
48
Kayden Presnell Pickens, SC
Pickens, SC
-
2
4
88JR
Preston Kelly Salem, SC
Salem, SC
2
3
3
00
Scott Cloninger Blacksburg, SC
Blacksburg, SC
-
4
2
88K
Joey Kelly Salem, SC
Salem, SC
-2
5
10
87K
Joey Knowles BAKERSVILLE, NC
BAKERSVILLE, NC
5
6
8
88
Wesley Terry Cliffside, NC
Cliffside, NC
2
7
11
69
Chris Smart Forest City, NC
Forest City, NC
4
8
13
25
Josh Ramsey Del Rio, TN
Del Rio, TN
5
9
18
777
Jared Dysart
9
10
12
5
Reggie Twing Union, SC
Union, SC
2
11
5
8B
Jonathan Butler Ellenboro, NC
Ellenboro, NC
-6
12
15
7T
Tyler Smith Pauline, SC
Pauline, SC
3
13
9
14
Clayton Furr Chesnee, SC
Chesnee, SC
-4
14
7
X
Nate Worthy Gaffney, SC
Gaffney, SC
-7
15
6
J6
Jimmy Price Chesnee, SC
Chesnee, SC
-9
16
16
2J
Rick Dunmire Gaffney, SC
Gaffney, SC
-
17
14
44
Jordan Webb Henrietta, NC
Henrietta, NC
-3
DNS
17
05
Josh Hulsey Hudson, NC
Hudson, NC
-
Finish
Start
#
Competitor
Hometown
Time
1
3
48
Kayden Presnell Pickens, SC
Pickens, SC
20.990
2
15
88K
Joey Kelly Salem, SC
Salem, SC
21.456
3
6
00
Scott Cloninger Blacksburg, SC
Blacksburg, SC
21.707
4
16
88JR
Preston Kelly Salem, SC
Salem, SC
21.724
5
17
8B
Jonathan Butler Ellenboro, NC
Ellenboro, NC
21.899
6
11
J6
Jimmy Price Chesnee, SC
Chesnee, SC
22.191
7
5
X
Nate Worthy Gaffney, SC
Gaffney, SC
22.584
8
7
88
Wesley Terry Cliffside, NC
Cliffside, NC
22.612
9
8
14
Clayton Furr Chesnee, SC
Chesnee, SC
22.952
10
10
87K
Joey Knowles BAKERSVILLE, NC
BAKERSVILLE, NC
23.055
11
9
69
Chris Smart Forest City, NC
Forest City, NC
23.076
12
1
5
Reggie Twing Union, SC
Union, SC
23.091
13
4
25
Josh Ramsey Del Rio, TN
Del Rio, TN
23.581
14
14
44
Jordan Webb Henrietta, NC
Henrietta, NC
23.625
15
18
7T
Tyler Smith Pauline, SC
Pauline, SC
23.886
16
13
2J
Rick Dunmire Gaffney, SC
Gaffney, SC
24.709
17
2
05
Josh Hulsey Hudson, NC
Hudson, NC
28.941
18
12
777
Jared Dysart
34.504
All transfer
Ford Outlaws
Finish
Start
#
Competitor
Hometown
+/-
1
2
10W
Justin Watts Kings Mountain, NC
Kings Mountain, NC
1
2
4
19
Brian Carswell Valdese, NC
Valdese, NC
2
3
3
17
Josh Melton Mooresboro, NC
Mooresboro, NC
-
4
5
0
TJ Slack Chester, SC
Chester, SC
1
5
15
28
Tyler Bailey Rutherfordton, NC
Rutherfordton, NC
10
6
6
18
Jarrid Helms Kings Mountain, NC
Kings Mountain, NC
-
7
10
808
Nikki Hartman Morresborro, NC
Morresborro, NC
3
8
1
11
Kyle Moore Boiling Springs, NC
Boiling Springs, NC
-7
9
11
115
Tim Lail Ellenboro, NC
Ellenboro, NC
2
10
16
321
Andy Moore Blue Ridge, SC
Blue Ridge, SC
6
11
8
10
Isaiah Watts Kings Mountain, NC
Kings Mountain, NC
-3
12
7
14
Jason Ledford Hickory, NC
Hickory, NC
-5
13
12
07
Payton Justice Inman, SC
Inman, SC
-1
14
14
K9
James Duckworth
-
15
13
22
Blake Greene Shelby, NC
Shelby, NC
-2
DNS
9
2
Eli Bowers east springs, SC
east springs, SC
-
Finish
Start
#
Competitor
Hometown
+/-
1
1
11
Kyle Moore Boiling Springs, NC
Boiling Springs, NC
-
2
3
17
Josh Melton Mooresboro, NC
Mooresboro, NC
1
3
6
0
TJ Slack Chester, SC
Chester, SC
3
4
5
14
Jason Ledford Hickory, NC
Hickory, NC
1
5
7
2
Eli Bowers east springs, SC
east springs, SC
2
6
8
115
Tim Lail Ellenboro, NC
Ellenboro, NC
2
7
2
22
Blake Greene Shelby, NC
Shelby, NC
-5
8
4
28
Tyler Bailey Rutherfordton, NC
Rutherfordton, NC
-4
All transfer
Finish
Start
#
Competitor
Hometown
+/-
1
4
10W
Justin Watts Kings Mountain, NC
Kings Mountain, NC
3
2
6
19
Brian Carswell Valdese, NC
Valdese, NC
4
3
5
18
Jarrid Helms Kings Mountain, NC
Kings Mountain, NC
2
4
1
10
Isaiah Watts Kings Mountain, NC
Kings Mountain, NC
-3
5
8
808
Nikki Hartman Morresborro, NC
Morresborro, NC
3
6
3
07
Payton Justice Inman, SC
Inman, SC
-3
7
2
K9
James Duckworth
-5
8
7
321
Andy Moore Blue Ridge, SC
Blue Ridge, SC
-1
All transfer
Finish
Start
#
Competitor
Hometown
Time
1
11
0
TJ Slack Chester, SC
Chester, SC
26.484
2
8
10W
Justin Watts Kings Mountain, NC
Kings Mountain, NC
26.995
3
13
2
Eli Bowers east springs, SC
east springs, SC
27.006
4
7
28
Tyler Bailey Rutherfordton, NC
Rutherfordton, NC
27.169
5
2
10
Isaiah Watts Kings Mountain, NC
Kings Mountain, NC
27.642
6
6
07
Payton Justice Inman, SC
Inman, SC
27.997
DNS
1
11
Kyle Moore Boiling Springs, NC
Boiling Springs, NC
DNS
3
22
Blake Greene Shelby, NC
Shelby, NC
DNS
4
K9
James Duckworth
DNS
5
17
Josh Melton Mooresboro, NC
Mooresboro, NC
DNS
9
14
Jason Ledford Hickory, NC
Hickory, NC
DNS
10
18
Jarrid Helms Kings Mountain, NC
Kings Mountain, NC
DNS
12
19
Brian Carswell Valdese, NC
Valdese, NC
DNS
14
321
Andy Moore Blue Ridge, SC
Blue Ridge, SC
DNS
15
115
Tim Lail Ellenboro, NC
Ellenboro, NC
DNS
16
808
Nikki Hartman Morresborro, NC
Morresborro, NC
Young Guns
Finish
Start
#
Competitor
Hometown
+/-
1
2
07
Brayden McDonald DONALDS, SC
DONALDS, SC
1
2
6
88
Alyssa Kelly Salem, SC
Salem, SC
4
3
5
31
Gavin Wheeler Mayo, SC
Mayo, SC
2
4
4
87K
Joseph Seyke Asheville, NC
Asheville, NC
-
5
3
1V
Dylan Vaughn Greenville, SC
Greenville, SC
-2
6
1
1
Addison Bragg Spartanburg, SC
Spartanburg, SC
-5
7
7
21
Brandon Greene Ellenborro, NC
Ellenborro, NC
-
Southern Vintage
Finish
Start
#
Competitor
Hometown
+/-
1
2
818
Jeffrey Wood Whittier, NC
Whittier, NC
1
2
1
3
Robbie Alridge Monroe, NC
Monroe, NC
-1
3
7
1
Munk Gullegge Blacksburg, SC
Blacksburg, SC
4
4
3
3B
Adam Bowers Heath Springs, SC
Heath Springs, SC
-1
5
4
7
Eric Rogers Mooreboro, NC
Mooreboro, NC
-1
6
6
28C
Scott Cannon Lyman, SC
Lyman, SC
-
7
8
29
Joe Earle Kings Mountain, NC
Kings Mountain, NC
1
8
9
8W
Dennis Williams Greer, SC
Greer, SC
1
DNS
5
45
Timmy Smith Greer, SC
Greer, SC
-
Finish
Start
#
Competitor
Hometown
Time
1
1
3
Robbie Alridge Monroe, NC
Monroe, NC
19.275
2
8
818
Jeffrey Wood Whittier, NC
Whittier, NC
19.580
3
4
3B
Adam Bowers Heath Springs, SC
Heath Springs, SC
20.054
4
7
7
Eric Rogers Mooreboro, NC
Mooreboro, NC
20.191
5
2
45
Timmy Smith Greer, SC
Greer, SC
20.231
6
5
28C
Scott Cannon Lyman, SC
Lyman, SC
20.308
7
9
1
Munk Gullegge Blacksburg, SC
Blacksburg, SC
20.664
8
3
29
Joe Earle Kings Mountain, NC
Kings Mountain, NC
21.459
9
6
8W
Dennis Williams Greer, SC
Greer, SC
22.008
All transfer