Where family, friends, & fenders come together!
Entertaining the Carolinas with weekly stock car racing since 1955!

Weekly Divisions
Street Stock, Thunder Bomber, Pure Stock, FWD, Ford Outlaws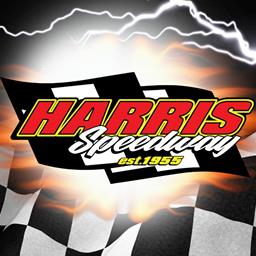 11/11/2023 - Harris Speedway
Harris, NC
Sherrif's Race ft. Pure Stock, Ford Outlaws, and other Weekly Divisions!
Come out and watch some of your favorite local sheriff's strap in and face off against each other to find out which county is best! We will also be featuring some of our crowd favorite weekly divisions!
Futures

14 entries

Street Stock

21 entries

Pure Stock

8 entries

Thunder Bomber

13 entries

FWD

16 entries

Ford Outlaws

17 entries
Full Event Information on MyRacePass
Futures
Finish
Start
#
Competitor
Hometown
+/-
1
1
55
Nathan Grigg Spartanburg, SC
Spartanburg, SC
-
2
2
17
Trevor Belue Gaffney, SC
Gaffney, SC
-
3
4
00
Devin Kelley Greenville, SC
Greenville, SC
1
4
3
34P
Joey Powell Greer, SC
Greer, SC
-1
5
6
409
Cole Daugherty Inman, SC
Inman, SC
1
6
10
75
Josh Mathis Zirconia, NC
Zirconia, NC
4
7
7
68
Matt Tucker Landrum, SC
Landrum, SC
-
8
11
54
Luke Morris Gaffney, SC
Gaffney, SC
3
9
8
45
Devin Atkins Travelers Rest, SC
Travelers Rest, SC
-1
10
5
X
Matt Anders Easley, SC
Easley, SC
-5
11
14
47R
Kyle Simmons Gastonia, NC
Gastonia, NC
3
12
12
B6
Chip Fisher Campobello, SC
Campobello, SC
-
13
9
N1
Eddie Ray Travelers Rest, SC
Travelers Rest, SC
-4
DQ
13
113
Dustin smith Woodruff, SC
Woodruff, SC
-
Finish
Start
#
Competitor
Hometown
Time
1
9
55
Nathan Grigg Spartanburg, SC
Spartanburg, SC
18.731
2
6
17
Trevor Belue Gaffney, SC
Gaffney, SC
19.024
3
34P
Joey Powell Greer, SC
Greer, SC
19.026
4
7
00
Devin Kelley Greenville, SC
Greenville, SC
19.168
5
2
X
Matt Anders Easley, SC
Easley, SC
19.224
6
11
409
Cole Daugherty Inman, SC
Inman, SC
19.226
7
13
68
Matt Tucker Landrum, SC
Landrum, SC
19.267
8
10
45
Devin Atkins Travelers Rest, SC
Travelers Rest, SC
19.295
9
8
N1
Eddie Ray Travelers Rest, SC
Travelers Rest, SC
19.332
10
3
75
Josh Mathis Zirconia, NC
Zirconia, NC
19.383
11
1
54
Luke Morris Gaffney, SC
Gaffney, SC
19.394
12
5
B6
Chip Fisher Campobello, SC
Campobello, SC
19.464
13
12
113
Dustin smith Woodruff, SC
Woodruff, SC
20.456
14
4
47R
Kyle Simmons Gastonia, NC
Gastonia, NC
20.524
All transfer
Street Stock
Finish
Start
#
Competitor
Hometown
+/-
1
1
9
Dalton Peavy Mooresboro, NC
Mooresboro, NC
-
2
3
18
Blake Bentley Lyman, SC
Lyman, SC
1
3
2
13
Brian Carswell Valdese, NC
Valdese, NC
-1
4
6
3
Tony Pierce
2
5
4
78
Blake Pryor Mooresboro, NC
Mooresboro, NC
-1
6
5
39
Steve Greene Bostic, NC
Bostic, NC
-1
7
9
83
Travis Caviness Charlotte, NC
Charlotte, NC
2
8
8
S1
Brian Sipe
-
9
11
B4
Brandon Satterfield Spartanburg, SC
Spartanburg, SC
2
10
10
22
Riley Robinette Tigerville, SC
Tigerville, SC
-
11
12
115
Danny Edmonds Taylors, SC
Taylors, SC
1
12
17
0
John Fox Asheville, NC
Asheville, NC
5
13
15
86R
John James Elkin, NC
Elkin, NC
2
14
7
101
Josh Hellams Woodruff, SC
Woodruff, SC
-7
15
14
17
Kyle Cooper Inman, SC
Inman, SC
-1
16
18
29
Geoff Pursley Clover, SC
Clover, SC
2
17
16
11
Danny Crouse Taylorsville, NC
Taylorsville, NC
-1
DNS
13
92
Tanner Fortune Flat Rock, NC
Flat Rock, NC
-
DNS
19
C8
Josh Ayers Landrum, SC
Landrum, SC
-
DNS
20
3W
Matt Whitener Canton, NC
Canton, NC
-
DNS
21
1
Damion Patton Morganton, NC
Morganton, NC
-
Finish
Start
#
Competitor
Hometown
Time
1
2
9
Dalton Peavy Mooresboro, NC
Mooresboro, NC
17.103
2
17
13
Brian Carswell Valdese, NC
Valdese, NC
17.110
3
6
18
Blake Bentley Lyman, SC
Lyman, SC
17.148
4
4
78
Blake Pryor Mooresboro, NC
Mooresboro, NC
17.172
5
14
39
Steve Greene Bostic, NC
Bostic, NC
17.375
6
21
3
Tony Pierce
17.498
7
1
101
Josh Hellams Woodruff, SC
Woodruff, SC
17.499
8
20
S1
Brian Sipe
17.545
9
19
83
Travis Caviness Charlotte, NC
Charlotte, NC
17.546
10
15
22
Riley Robinette Tigerville, SC
Tigerville, SC
17.548
11
7
B4
Brandon Satterfield Spartanburg, SC
Spartanburg, SC
17.658
12
8
115
Danny Edmonds Taylors, SC
Taylors, SC
17.723
13
12
92
Tanner Fortune Flat Rock, NC
Flat Rock, NC
17.829
14
11
17
Kyle Cooper Inman, SC
Inman, SC
17.864
15
18
86R
John James Elkin, NC
Elkin, NC
17.967
16
3
11
Danny Crouse Taylorsville, NC
Taylorsville, NC
18.152
17
13
0
John Fox Asheville, NC
Asheville, NC
18.298
18
9
29
Geoff Pursley Clover, SC
Clover, SC
18.370
DQ
5
C8
Josh Ayers Landrum, SC
Landrum, SC
16.854
DNS
10
3W
Matt Whitener Canton, NC
Canton, NC
DNS
16
1
Damion Patton Morganton, NC
Morganton, NC
All transfer
Finish
Start
#
Competitor
Hometown
Time
1
5
C8
Josh Ayers Landrum, SC
Landrum, SC
16.768
2
1
101
Josh Hellams Woodruff, SC
Woodruff, SC
17.076
3
6
18
Blake Bentley Lyman, SC
Lyman, SC
17.081
4
2
9
Dalton Peavy Mooresboro, NC
Mooresboro, NC
17.098
5
4
78
Blake Pryor Mooresboro, NC
Mooresboro, NC
17.195
6
17
13
Brian Carswell Valdese, NC
Valdese, NC
17.275
7
21
3
Tony Pierce
17.402
8
14
39
Steve Greene Bostic, NC
Bostic, NC
17.504
9
12
92
Tanner Fortune Flat Rock, NC
Flat Rock, NC
17.650
10
20
S1
Brian Sipe
17.716
11
15
22
Riley Robinette Tigerville, SC
Tigerville, SC
17.849
12
19
83
Travis Caviness Charlotte, NC
Charlotte, NC
17.992
13
11
17
Kyle Cooper Inman, SC
Inman, SC
18.008
14
18
86R
John James Elkin, NC
Elkin, NC
18.130
15
10
3W
Matt Whitener Canton, NC
Canton, NC
18.429
16
9
29
Geoff Pursley Clover, SC
Clover, SC
18.536
17
13
0
John Fox Asheville, NC
Asheville, NC
18.670
18
3
11
Danny Crouse Taylorsville, NC
Taylorsville, NC
18.755
19
8
115
Danny Edmonds Taylors, SC
Taylors, SC
18.881
DNS
7
B4
Brandon Satterfield Spartanburg, SC
Spartanburg, SC
DNS
16
1
Damion Patton Morganton, NC
Morganton, NC
Pure Stock
Finish
Start
#
Competitor
Hometown
+/-
1
1
N1
Kevin Nations Greenville, SC
Greenville, SC
-
2
3
5W
Dewayne Worley Canton, NC
Canton, NC
1
3
2
ST7
Nathan Pierce Gaffney, SC
Gaffney, SC
-1
4
5
1
Tyler Abernathy Inman, SC
Inman, SC
1
5
7
1H
Anderson Heisler Canton, NC
Canton, NC
2
6
4
NC3
Nelson Cunningham Gaffney, SC
Gaffney, SC
-2
7
6
H5
Chad Harvley Duncan, SC
Duncan, SC
-1
DNS
8
X
Shane Cantrell Woodruff, SC
Woodruff, SC
-
Finish
Start
#
Competitor
Hometown
Time
1
1
N1
Kevin Nations Greenville, SC
Greenville, SC
20.535
2
8
ST7
Nathan Pierce Gaffney, SC
Gaffney, SC
20.638
3
4
NC3
Nelson Cunningham Gaffney, SC
Gaffney, SC
20.853
4
3
1
Tyler Abernathy Inman, SC
Inman, SC
21.172
5
6
H5
Chad Harvley Duncan, SC
Duncan, SC
24.988
6
2
X
Shane Cantrell Woodruff, SC
Woodruff, SC
29.853
DNS
5
5W
Dewayne Worley Canton, NC
Canton, NC
DNS
7
1H
Anderson Heisler Canton, NC
Canton, NC
Thunder Bomber
Finish
Start
#
Competitor
Hometown
+/-
1
1
46
Bailey Hipp Tryon, NC
Tryon, NC
-
2
3
G1
Greg Carroll Greer, SC
Greer, SC
1
3
7
5
Tommy Suttles Chesnee, SC
Chesnee, SC
4
4
10
7
Casey Lawson Kinards, SC
Kinards, SC
6
5
11
45A
Donnie Atkins Blue Ridge, SC
Blue Ridge, SC
6
6
5
71
Chad Nodine Inman, SC
Inman, SC
-1
7
4
38
Freddie Frady Marion, NC
Marion, NC
-3
8
6
196X
Brayson Riddle Easley, SC
Easley, SC
-2
9
9
45
Jamie Decker Taylors, SC
Taylors, SC
-
10
8
20H
Bryson Harper Forest City, NC
Forest City, NC
-2
11
12
19R
Rodger Mason Landrum, SC
Landrum, SC
1
12
2
135JR
Trenten Jamieson Laurens, SC
Laurens, SC
-10
Finish
Start
#
Competitor
Hometown
+/-
1
2
46
Bailey Hipp Tryon, NC
Tryon, NC
1
2
4
G1
Greg Carroll Greer, SC
Greer, SC
2
3
1
71
Chad Nodine Inman, SC
Inman, SC
-2
4
5
5
Tommy Suttles Chesnee, SC
Chesnee, SC
1
5
6
45
Jamie Decker Taylors, SC
Taylors, SC
1
DNS
3
45A
Donnie Atkins Blue Ridge, SC
Blue Ridge, SC
-
All transfer
Finish
Start
#
Competitor
Hometown
+/-
1
1
135JR
Trenten Jamieson Laurens, SC
Laurens, SC
-
2
2
38
Freddie Frady Marion, NC
Marion, NC
-
3
5
196X
Brayson Riddle Easley, SC
Easley, SC
2
4
3
20H
Bryson Harper Forest City, NC
Forest City, NC
-1
5
6
7
Casey Lawson Kinards, SC
Kinards, SC
1
6
4
19R
Rodger Mason Landrum, SC
Landrum, SC
-2
All transfer
Finish
Start
#
Competitor
Hometown
Time
1
10
196X
Brayson Riddle Easley, SC
Easley, SC
19.452
2
11
45
Jamie Decker Taylors, SC
Taylors, SC
19.624
3
4
38
Freddie Frady Marion, NC
Marion, NC
19.636
4
12
7
Casey Lawson Kinards, SC
Kinards, SC
19.789
5
13
34
Joey Powell Greer, SC
Greer, SC
19.850
6
7
G1
Greg Carroll Greer, SC
Greer, SC
19.869
7
3
46
Bailey Hipp Tryon, NC
Tryon, NC
19.874
8
8
19R
Rodger Mason Landrum, SC
Landrum, SC
20.096
9
1
71
Chad Nodine Inman, SC
Inman, SC
20.127
10
5
45A
Donnie Atkins Blue Ridge, SC
Blue Ridge, SC
20.176
11
6
20H
Bryson Harper Forest City, NC
Forest City, NC
20.211
12
9
5
Tommy Suttles Chesnee, SC
Chesnee, SC
20.321
13
2
135JR
Trenten Jamieson Laurens, SC
Laurens, SC
20.767
FWD
Finish
Start
#
Competitor
Hometown
+/-
1
1
48
Newman Presnell Pickens, SC
Pickens, SC
-
2
5
2
Kylee Laws Travelers Rest, SC
Travelers Rest, SC
3
3
2
F1
Travis Lankford Gaffney, SC
Gaffney, SC
-1
4
16
A2
Carson Venable Abbeville, SC
Abbeville, SC
12
5
10
22
Trent Blackwell Central, SC
Central, SC
5
6
11
214
Eric McGahee Reidville, SC
Reidville, SC
5
7
14
777
Jared Dysart
7
8
4
9
Joel Cabe Laurens, SC
Laurens, SC
-4
9
6
007
Bradley Poole Greenwood, SC
Greenwood, SC
-3
10
12
1
Addison Bragg Spartanburg, SC
Spartanburg, SC
2
11
8
12
Trevor Russell Jonesville, SC
Jonesville, SC
-3
12
3
78
Willie Fowler Rutherfordton, NC
Rutherfordton, NC
-9
13
7
27
Dale Bennett Taylors, SC
Taylors, SC
-6
14
13
21
Brandon Greene Ellenborro, NC
Ellenborro, NC
-1
15
9
88
Wesley Terry Cliffside, NC
Cliffside, NC
-6
DNS
15
47
Michael Gelhausen Lancaster, SC
Lancaster, SC
-
Finish
Start
#
Competitor
Hometown
+/-
1
2
48
Newman Presnell Pickens, SC
Pickens, SC
1
2
8
78
Willie Fowler Rutherfordton, NC
Rutherfordton, NC
6
3
6
2
Kylee Laws Travelers Rest, SC
Travelers Rest, SC
3
4
5
27
Dale Bennett Taylors, SC
Taylors, SC
1
5
4
88
Wesley Terry Cliffside, NC
Cliffside, NC
-1
6
3
214
Eric McGahee Reidville, SC
Reidville, SC
-3
7
1
21
Brandon Greene Ellenborro, NC
Ellenborro, NC
-6
DNS
7
47
Michael Gelhausen Lancaster, SC
Lancaster, SC
-
All transfer
Finish
Start
#
Competitor
Hometown
+/-
1
3
F1
Travis Lankford Gaffney, SC
Gaffney, SC
2
2
6
9
Joel Cabe Laurens, SC
Laurens, SC
4
3
1
007
Bradley Poole Greenwood, SC
Greenwood, SC
-2
4
5
12
Trevor Russell Jonesville, SC
Jonesville, SC
1
5
7
22
Trent Blackwell Central, SC
Central, SC
2
6
4
1
Addison Bragg Spartanburg, SC
Spartanburg, SC
-2
7
2
777
Jared Dysart
-5
All transfer
Finish
Start
#
Competitor
Hometown
Time
1
15
78
Willie Fowler Rutherfordton, NC
Rutherfordton, NC
19.102
2
6
F1
Travis Lankford Gaffney, SC
Gaffney, SC
19.135
3
11
2
Kylee Laws Travelers Rest, SC
Travelers Rest, SC
19.410
4
12
9
Joel Cabe Laurens, SC
Laurens, SC
19.471
5
7
88
Wesley Terry Cliffside, NC
Cliffside, NC
20.073
6
4
777
Jared Dysart
20.680
7
1
21
Brandon Greene Ellenborro, NC
Ellenborro, NC
21.036
8
13
47
Michael Gelhausen Lancaster, SC
Lancaster, SC
24.431
DNS
2
007
Bradley Poole Greenwood, SC
Greenwood, SC
DNS
3
48
Newman Presnell Pickens, SC
Pickens, SC
DNS
5
214
Eric McGahee Reidville, SC
Reidville, SC
DNS
8
1
Addison Bragg Spartanburg, SC
Spartanburg, SC
DNS
9
27
Dale Bennett Taylors, SC
Taylors, SC
DNS
10
12
Trevor Russell Jonesville, SC
Jonesville, SC
DNS
14
22
Trent Blackwell Central, SC
Central, SC
Ford Outlaws
Finish
Start
#
Competitor
Hometown
+/-
1
1
2
Barry Bryant Shelby, NC
Shelby, NC
-
2
2
15
Michael Cranmer Charlestown, IN
Charlestown, IN
-
3
13
00
Charlie Meinders Liberty, SC
Liberty, SC
10
4
4
10
Isaiah Watts Kings Mountain, NC
Kings Mountain, NC
-
5
7
74
Vic Harris Harris, NC
Harris, NC
2
6
3
22
Blake Greene Shelby, NC
Shelby, NC
-3
7
9
28
Tyler Bailey Rutherfordton, NC
Rutherfordton, NC
2
8
16
44
Bobby Whitworth Greenville, SC
Greenville, SC
8
9
11
7M
Austin Jordan Mooresville, NC
Mooresville, NC
2
10
14
23
Kendell Meinders Liberty, SC
Liberty, SC
4
11
8
F1
Travis Lankford Gaffney, SC
Gaffney, SC
-3
12
12
1
Brooks Beam Chesnee, SC
Chesnee, SC
-
13
15
27
Savannah Meinders Liberty, SC
Liberty, SC
2
14
5
92
Dave Thompson Flat Rock, NC
Flat Rock, NC
-9
15
10
C4
Phillip Taylor Lancaster, SC
Lancaster, SC
-5
DQ
6
K9
Darrell Jordan Mooresville, NC
Mooresville, NC
-
Finish
Start
#
Competitor
Hometown
Time
1
6
2
Barry Bryant Shelby, NC
Shelby, NC
19.714
2
11
15
Michael Cranmer Charlestown, IN
Charlestown, IN
20.450
3
12
22
Blake Greene Shelby, NC
Shelby, NC
20.450
4
3
10
Isaiah Watts Kings Mountain, NC
Kings Mountain, NC
20.481
5
17
92
Dave Thompson Flat Rock, NC
Flat Rock, NC
20.665
6
4
K9
Darrell Jordan Mooresville, NC
Mooresville, NC
20.673
7
8
74
Vic Harris Harris, NC
Harris, NC
20.698
8
14
F1
Travis Lankford Gaffney, SC
Gaffney, SC
20.818
9
5
28
Tyler Bailey Rutherfordton, NC
Rutherfordton, NC
20.833
10
16
C4
Phillip Taylor Lancaster, SC
Lancaster, SC
21.272
11
13
7M
Austin Jordan Mooresville, NC
Mooresville, NC
21.546
All transfer