Where family, friends, & fenders come together!
Entertaining the Carolinas with weekly stock car racing since 1955!

Weekly Divisions
602 Late Model, Street Stock, Thunder Bomber, Pure Stock, FWD, Ford Outlaws, Young Guns, Futures

Next Event
Saturday- Weekly Divisions and SENIOR Night Sunday- Demolition Derby and 150 Lap Enduro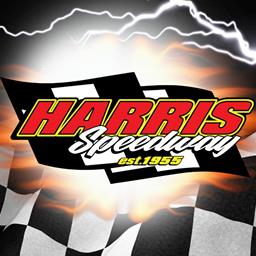 4/8/2022 - Harris Speedway
Harris, NC
Randy Hill Memorial Qualifying Night
Night one for the first Randy Hill Memorial Race. Qualifying and Heats tonight.
Pure Stock

17 entries

Futures
FWD Young Guns

7 entries
Full Event Information on MyRacePass
Pure Stock
Finish
Start
#
Competitor
Hometown
+/-
1
ST7
Nathan Pierce Gaffney, SC
Gaffney, SC
-
2
KILLER
Josh Ayers Landrum, SC
Landrum, SC
-
3
64
TJ Penfield Landrum, SC
Landrum, SC
-
4
44J
Jason McGrew Greenville, SC
Greenville, SC
-
5
3P
Mitchell Parris Mooresboro, NC
Mooresboro, NC
-
6
8
Mickey Brock Inman, SC
Inman, SC
-
7
0
Bradley Williams Easley, SC
Easley, SC
-
8
9
Matt Spencer Harris, NC
Harris, NC
-
9
10J
Taylor Johnson
-
10
103
Brittnye Parris Mooresboro, NC
Mooresboro, NC
-
11
PTM8
Dave Johnson
-
12
4B
Brandon Byers Gaffney, SC
Gaffney, SC
-
13
116
Jared Dysart
-
14
15T
Tristen Woody Forest City, NC
Forest City, NC
-
15
3
Devon Lovelace Rutherfordton, NC
Rutherfordton, NC
-
16
5W
Dewayne Worley Canton, NC
Canton, NC
-
17
52P
David Peterson Gaffney, SC
Gaffney, SC
-
FWD Young Guns
Finish
Start
#
Competitor
Hometown
+/-
1
48
Kayden Presnell Pickens, SC
Pickens, SC
-
2
135
Trenten Jamieson Laurens, SC
Laurens, SC
-
3
BANDIT
Dale Bennett Taylors, SC
Taylors, SC
-
4
137
Lindsey Bostic Forest City, NC
Forest City, NC
-
5
8
Pierce Harvley Duncan, SC
Duncan, SC
-
6
19
Ethan Fowler Harris, NC
Harris, NC
-
7
B11
Brodie Garrett Laurens, SC
Laurens, SC
-